"Where the Wind Blew" documentary screening & panel discussion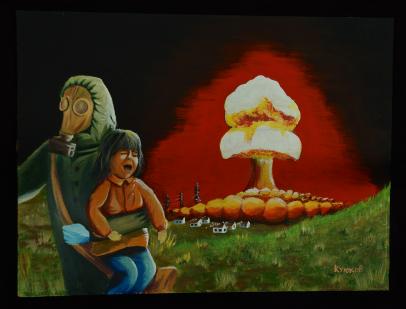 November 7, 2017
The Simons Foundation and the SFU Institute for the Humanities invite you to attend a free screening of the documentary film Where the Wind Blew which delves into the legacy of nuclear bomb testing during the Cold War in Kazakhstan (USSR) and Nevada (USA) told through the eyes of the victims, activists and participants.  The screening will be followed by a panel discussion with Alimzhan Akhmetov, Paul Meyer, and M.V. Ramana, moderated by Samir Gandesha, Director of the Institute for the Humanities at Simon Fraser University.  Opening remarks will be made by Dr. Jennifer Allen Simons, President of The Simons Foundation.
Friday, November 24, 2017
5:30pm - 8:30pm
Doors open and light refreshments served at 5:30pm;
screening begins at 6:00pm
Terasen Cinema, Room 1800
Simon Fraser University Harbour Centre Campus
515 West Hastings Street
Vancouver
The event is free but registration is requested for catering purposes.  CLICK HERE TO REGISTER.
Film Synopsis

Where the Wind Blew tells the story of how the Cold War super powers, in their race to develop more and more deadly bombs, spent forty years developing weapons capable of wiping out entire nations, while sacrificing their own vulnerable populations in the name of national security.
Using archive and testimony from both those affected and those participating in these escalating events, Where the Wind Blew shows not only how ordinary people were allowed to suffer in ignorance, but also how, with personal fortitude and courage they defied their governments. They helped change the course of history by joining forces, first nationally, then across the world to finally triumph against the testing of nuclear weapons. Kazakhstan became, in 1989, the first nation to close its test site, leading the way to an international test ban treaty.
The story does not, of course, end with this victory. Despite treaties and promises, today sees the super powers (and some not-so-super powers) once again build up their nuclear arsenals. With global tensions on the increase, and the real fear that nuclear arms are increasingly available to unstable regimes and groups, we more than ever need reminding about the lessons of history. We may have become complacent about nuclear testing – but the Doomsday Clock which warns us about the threat of how nuclear global destruction takes us closer to Armageddon, is ticking steadily towards midnight.

Where the Wind Blew trailer
A Spring Films production
Directed by André Singer
Panelists
Alimzhan Akhmetov is Founder and Director of the Center for International Security and Policy in Astana, Kazakhstan.  Previously, he was a specialist on international relations with the JSC (Science Foundation), Head of the Division of International Security and Counselor, Division of International Security, with the Department of Multilateral Cooperation, Ministry of Foreign Affairs of Kazakhstan.  From July 2013 to June 2014, he was Head of the Department of International Relations, JSC (Baiterek NMH), and was Head of Sector, Foreign Policy Center, Executive Office of the President of Kazakhstan from July 2012 to June 2013.  He has also served as Counselor, First Secretary of the Embassy of Kazakhstan in Russia; Head of Branch, Second Secretary, Department of CIS Countries, MFA of Kazakhstan; and Counselor, Group of Establishing the Single Economic Space under the Secretariat of Eurasian Economic Community.  Akhmetov was a graduate student and teacher at the G.V. Plekhanov Russian Economic Academy, and Head of the Branch of International Relations and a teacher at Karaganda University of Business, Management and Law.  He is also author of a collection of selected poems and essays released in December 2015.
Paul Meyer is a former Canadian diplomat who retired from the Foreign Service in September 2010 after a 35 year career. He joined the then Department of External Affairs in 1975 and served abroad in Oslo (1976–1978), Moscow (1982–1984) and Brussels (1988–1992) where he was Political Counsellor in Canada's delegation to NATO. From 1992–1997, he served at the Embassy in Washington D.C. as Minister-Counsellor (Political) and from 2001-2003 as Minister and Deputy Head of Mission at the Embassy in Tokyo. In Ottawa, Paul held a variety of positions at the Department of Foreign Affairs and International Trade, primarily in the field of international security policy. He was Director-General of the International Security Bureau (1998–2001) and Director-General of the Security and Intelligence Bureau (2007–2010). From 2003 to 2007, he served as Ambassador and Permanent Representative to the United Nations and the Conference on Disarmament in Geneva. His responsibilities at this centre for multilateral action on global issues spanned a variety of fields including human rights, humanitarian affairs, global health, and arms control and disarmament. In February 2011 he was appointed Fellow in International Security at the Centre for Dialogue and concurrently Adjunct Professor, School for International Studies at Simon Fraser University, Vancouver. He is also a Senior Fellow at The Simons Foundation. His research interests include nuclear non-proliferation and disarmament, outer space security, conflict prevention and cyber security.
M.V. Ramana is the Simons Chair in Disarmament, Global and Human Security at the Liu Institute for Global Issues, UBC. His research interests are in the broad areas of international security and energy supply, with a particular focus on topics related to nuclear energy and fissile materials that can be used to make nuclear weapons. He combines technical skills and interdisciplinary methods to address policy relevant questions related to security and energy issues. Ramana is the author of The Power of Promise: Examining Nuclear Energy in India, Penguin Books, New Delhi (2012). His recent work has involved studying the multiple risks associated with the acquisition and expansion of nuclear power around the world, including the linkage with nuclear weapons, the financial risks stemming from the high capital costs of reactors, the environmental risks associated with spent fuel and long-lived radioactive waste, and safety risks as a result of the potential for severe accidents like the ones at Chernobyl in 1986 and Fukushima in 2011. He has also carried out critical assessments of new reactor technologies. Earlier work has included studying the effects of nuclear explosions, accidents involving nuclear weapons, and the detection of ballistic missiles. His work has been recognized through honors such as a Guggenheim Fellowship in 2003 and the Leo Szilard Award from the American Physical Society in 2014. He is a member of the International Panel on Fissile Materials and on the editorial board of Energy Research & Social Science.
CLICK HERE TO REGISTER or contact The Simons Foundation at info@thesimonsfoundation.ca for more information.
Co-convened by The Simons Foundation and SFU's Institute for the Humanities