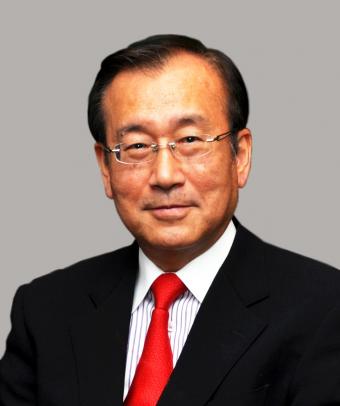 Tadatoshi Akiba was Mayor of the City of Hiroshima, Japan, and President of Mayors for Peace, a global network of mayors striving to achieve nuclear disarmament, from 2003-2011. In his role as President of Mayors for Peace, Dr. Akiba expanded the organization from 480 member cities in 102 countries and regions to 4,680 member cities in 150 countries and regions. He has also overseen the development of major Mayors for Peace initiatives including the 2020 Vision (Emergency Campaign to Ban Nuclear Weapons), a program to eliminate all nuclear weapons by the year 2020 - the 75th anniversary of the atomic bombings in Hiroshima and Nagasaki.
Dr. Akiba was named Chairman of the Middle Powers Initiative (MPI) in August 2012 and has been a Professor (Special Appointment) of Hiroshima University. 

As his home of Hiroshima is one of two cities, along with Nagasaki, to suffer the devastation of a nuclear bomb, Dr. Akiba is deeply committed to ensuring that the world never again experiences the horror that reduced his city to rubble and killed hundreds of thousands of people.
The Simons Foundation is honoured to name Dr. Akiba as one of its Peace Leaders.
Selected articles and publications by Dr. Akiba are available below.