Circumpolar Military Facilities of the Arctic Five - Updated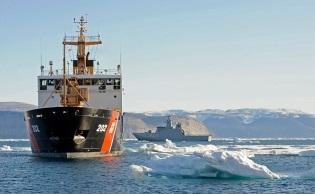 March 30, 2015
Prepared by Ernie Regehr, O.C.
Senior Fellow in Arctic Security,
The Simons Foundation
and Anni-Claudine Buelles, M.A.
Updated: March 2015
"Is the [Arctic] region again becoming militarized?" The question was asked in 2011 by the Canadian Senate Committee on Security and Defence in its interim report on Arctic sovereignty and security, and it is the question that prompts the following compilation of current military facilities in the circumpolar region.
A simple listing of military bases, facilities, and equipment, either based in or available for deployment in the Arctic Region, does not itself answer the question of militarization, but the listing is intended to contribute to the informed consideration of it, as well as to informed assessments of the likely security implications of particular military procurement programs and developments. The objective is to aid efforts toward a better understanding of the extent and nature of current and planned military capacity in the Arctic.
This document relies on a broad range of media, governmental, academic, and research centre sources, all of which are indicated in the footnotes.
This is necessarily a "work in progress." All sections of these listings will continue to be updated to accommodate new information and changes in military posture and engagement relative to the Arctic.
The listing updated to March 2015 is available in .pdf below and at the following link: Circumpolar Military Facilities of the Arctic Five
Ernie Regehr, O.C. is Senior Fellow in Arctic Security at The Simons Foundation, and Research Fellow at the Institute of Peace and Conflict Studies, Conrad Grebel University College, University of Waterloo.