"Fighter aircraft and Arctic sovereignty"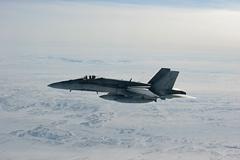 May 14, 2013
Visit our Disarming Arctic Security page for the most recent installment of Ernie Regehr's briefing papers focussing on military policies and practices in the Arctic region:
Fighter aircraft and Arctic sovereignty
May 14, 2013
It is a staple of Canadian politics to invoke temporary northern visions to curry temporary southern favor, a tradition fully honored in the current plan to spend as much as a billion dollars per year – for some 40 years – to acquire and operate a new fleet of fighter aircraft.  Continue reading....
Ernie Regehr, O.C. is Senior Fellow in Arctic Security at The Simons Foundation, and Research Fellow at the Institute of Peace and Conflict Studies, Conrad Grebel University College, University of Waterloo.