"Former IAEA director general: Japan can lead in banning nukes"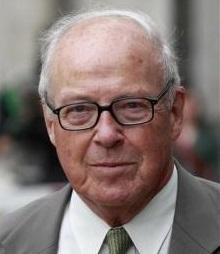 October 30, 2016
Interview with Hans Blix, Ph.D., LL.D.
Published by The Asahi Shimbun
October 30, 2016
Draft resolution L41, "Taking Forward Multilateral Nuclear Disarmament Negotiations," was adopted at the First Committee of the United Nations General Assembly on October 27th.  Japan voted against, but Hans Blix says Japan should take the lead in efforts to eliminate nuclear weapons. 
Visit The Asahi Shimbun at the link below for their interview with Dr. Blix.
Dr. Hans Blix, Swedish diplomat, was Chair of The Weapons of Mass Destruction Commission, Head of the UN Monitoring, Verification and Inspection Commission (UNMOVIC) and the International Atomic Energy Agency (IAEA), and is a Peace Leader at The Simons Foundation.