"The Roots of Extremism" BBC Radio 4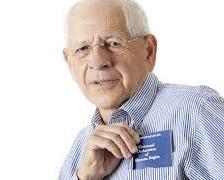 March 17, 2014
The Simons Foundation Peace Leader, Frank Chalk, participated in the BBC Radio 4 broadcast of "Roots of Extremism" on March 17, 2014.
The programme explored what drives people to exterminate others and historian Daniel Pick reveals the story of an extraordinary project which aimed to unearth persecution's roots, from witch-hunts to the Holocaust and beyond.
From BBC Radio 4: "In 1961, Adolf Eichmann, one of the chief organisers of the Holocaust, was tried in Jerusalem. Among those deeply troubled by his apparent ordinariness was David Astor, the editor of the Observer .
Astor was also an enthusiastic champion of psychoanalysis, and made a speech declaring that the 'political psychopathology' of Nazism - and other examples of persecution and extermination - should be investigated. And he had the money to make this happen.
The historian Norman Cohn contacted Astor and offered to help. Cohn was the author of The Pursuit of the Millennium, a pioneering study of the ways medieval utopian visions led to 'purifying' massacres.
With Astor's support, Cohn set up the Columbus Centre, a team of historians, sociologists and other scholars who set about investigating the psychological roots of the Nazi mass killings of Jews and Gypsies, and much earlier examples such as the witch-hunts across Europe in the Middle Ages.
One member of the team, psychiatrist Dr Henry Dicks, even visited West German prisons to interview convicted SS killers and concentration camp guards face to face.
In this programme, Daniel Pick investigates the story of the Columbus Centre, drawing on exclusive access to private recordings of the Centre's meetings.
And he explores the impact of the project today, from terrorism studies to the Tribunal that tried the perpetrators of the Rwanda genocide.
With: Jeremy Lewis, Lucy Astor, Adrian Dicks, Marina Voikhanskaya, Steven Reicher, John Horgan, Frank Chalk, Albie Sachs.
Producer: Phil Tinline"
To listen the the full broadcast (29 minutes), please visit BBC Radio 4.

Professor Frank Chalk is Founding Co-Director of Canada's Montreal Institute for Genocide and Human Rights Studies (MIGS) at Concordia University and one of The Simons Foundation's Peace Leaders.