Gandhi 150 Jayanti free public events, October 2-7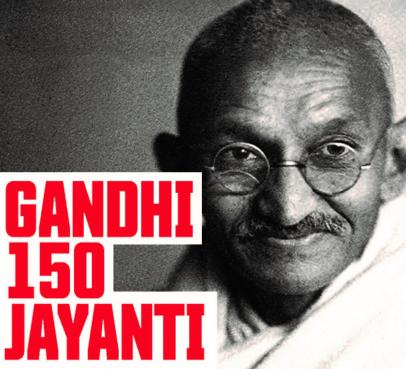 September 25, 2019
These free events celebrating the 150th anniversary of the birth of Mahatma Gandhi are presented by the Thakore Charitable Foundation, SFU Institute for the Humanities and the J.S. Woodsworth Chair in the Humanities at Simon Fraser University, and the SFU Library.  All are welcome to attend.  
October 2, 2019

Garlanding Ceremony
6:45pm
Simon Fraser University, Burnaby
October 3, 2019
The Thakore Visiting Scholar Award
at the Gandhi Commemorative Lecture
6:30pm
SFU Morris J. Wosk Centre for Dialogue
580 West Hastings Street, Vancouver
The Thakore Visiting Scholar Award honours individuals who have devoted their lives to creativity, commitment, and a deep concern for truth in public life, and recognizes commitment to Gandhi's ideals of truth, non-violence, social justice, religious tolerance, education and ethics in politics.  The 2019 Thakore Visiting Scholar Award recipient is Raffi Cavoukian, C.M., O.B.C. for his lifelong focus on honouring children, education, and the promotion of an overall culture of peace.
The Gandhi Student Peace Award recognizes and honours a SFU student who has been active in voluntary community service in areas related to peace, justice and human rights.
October 3-7, 2019
Gandhi Photo Exhibition
Teck Gallery, Simon Fraser University Harbour Centre, Vancouver
Opening reception: October 3rd, 5:30-6:30pm
October 4, 2019
Thakore Visiting Scholar workshop with Raffi Cavoukian
10:00am
Room 1510, Simon Fraser University Harbour Centre, Vancouver
Pre-registration required.  Contact: admin_humanities@sfu.ca
 
For more information on the Thakore Visiting Scholar Award and Gandhi 150 Jayanti events, please visit www.gandhijayanti.com