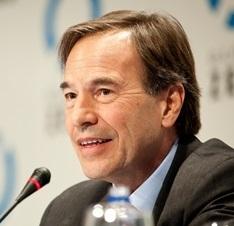 The Simons Foundation Award for Distinguished Global Leadership in the Service of Peace and Disarmament - September 2018
Bruce Blair is an expert on U.S. and Russian security policies, specializing in nuclear forces and command-control systems. He is Co-Founder of Global Zero, an international group of 300 world leaders dedicated to achieving the phased, verified elimination of nuclear weapons by 2030, and an Executive Producer of Countdown to Zero (2010), a documentary film detailing the continuing dangers of nuclear weapons.
Dr. Blair is currently a Research Scholar with the Program on Science and Global Security at Princeton University.  His research interests are in technical and policy steps toward the verifiable elimination of nuclear weapons through bilateral nuclear arms reductions, multilateral arms negotiations and de-alerting of nuclear arsenals.  He also served on the US Secretary of State's International Security Advisory Board from 2011-2014.
Dr. Blair served in the U.S. Air Force as a Minuteman ICBM launch control officer and support officer for the Strategic Air Command's Airborne Command Post from 1970-1974, was a project director at the US Congressional Office of Technology Assessment from 1982-1985, a Senior Fellow in the Foreign Policy Studies Program at the Brookings Institution from 1987-2000, and has taught security studies as a visiting professor at Yale and Princeton.  He also founded and served as President of the World Security Institute (WSI), a nonprofit organization committed to independent research and journalism on global issues.  In 1999, Dr. Blair was awarded a MacArthur Fellowship Prize for his work and leadership on de-alerting nuclear forces.  
For more information and a complete biography, please visit Princeton's Program on Science and Global Security and Global Zero.

See below for some selected articles and publications by Bruce Blair.