The Hon. Louise Arbour, C.C., G.O.Q.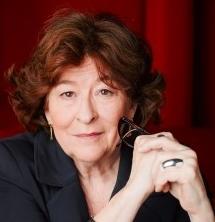 2014-2015 Simons Visiting Chair in Dialogue on International Law and Human Security at Simon Fraser University
The Simons Foundation Award for Distinguished Global Leadership in the Service of Peace and Disarmament – March 2015
This Award is presented to The Hon. Louise Arbour for many reasons but specifically for her contributions as United Nations High Commissioner for Human Rights and as Chief Prosecutor for the International Criminal Tribunals for the former Yugoslavia and for Rwanda.  She has played an important leadership role in shaping both institutions.
We can think of no better recipient for this Award than Madame Louise Arbour who has been described as "one of the most influential legal minds in both Canada and abroad."  This pre-eminent Canadian and internationally acclaimed Jurist, embodies the  noblest of  ideals for  humankind. Not only this, she is not merely content to hold these ideals, but rather she actively engages  in order to ground them in reality. She has shaped the institutions which have had the benefit of her leadership.
It seems that whatever Louise Arbour undertakes, she enlarges the dimensions, expands the scope; and thus opens new possibilities for the betterment of  human life, for  human rights, for justice and for a peaceful world.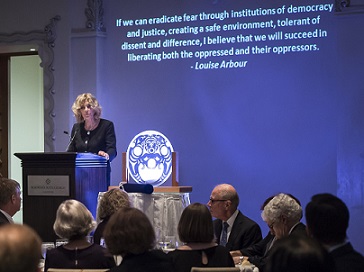 Dr. Jennifer Simons, President
of The Simons Foundation,
speaks at the Award Dinner
(photo: Greg Ehlers, SFU)
As Chief Prosecutor for the International Criminal Tribunals for the Former Yugoslavia and Rwanda she developed procedures and practices – in her words: "'building a law enforcement agency' for human rights" – innovatively utilizing novel resources - highly secret sealed indictments, NATO troops, and the media - in order to achieve her objectives, and allowed her to make many arrests of perpetrators of crimes against humanity.  As U.N. High Commissioner for Human Rights and as Chief Prosecutor of The Hague Tribunals, she has strengthened international criminal law and furthered the mission of these institutions in the interests of human rights, prevention of genocide and peace.  
We express our deep gratitude to Madame Arbour for her contributions to a better future, and her forward-looking approach to a better world.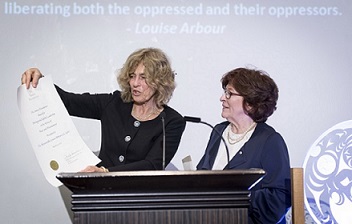 Dr. Jennifer Simons presents
The Simons Foundation Award
to The Hon. Louise Arbour
(photo: Greg Ehlers, SFU)