2018-2019 Graduate Research Awards Ceremony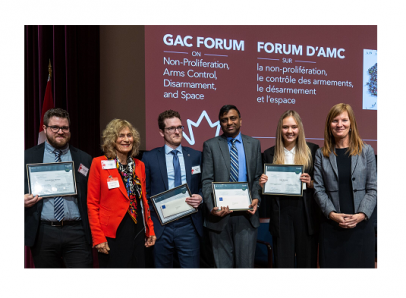 March 28, 2019
The Graduate Research Awards for Disarmament, Arms Control and Non-Proliferation are offered by The Simons Foundation and the International Security Research and Outreach Programme (ISROP) of Global Affairs Canada (GAC). The primary objective of the awards is to enhance Canadian graduate-level scholarship on disarmament, arms control and non-proliferation issues.
On March 28, 2019, the recipients of the 2018-2019 Graduate Research Awards for Disarmament, Arms Control and Non-Proliferation presented their papers as part of the 2019 Global Affairs Canada Forum on Non-Proliferation, Arms Control, Disarmament and Space hosted by Global Affairs Canada in Ottawa.
 
Presentation by Ramesh Balakrishnan
Ph.D., Political Science, Carleton University 
The UN Secretary-General has announced a new Agenda for Disarmament and its Implementation Plan. Will the Agenda and its Implementation Plan work? How should Canada engage with it?
 
Presentation by Louis-Phillipe Morneau
Ph.D., Political Science, Concordia University
Risk Assessment of Dual-Use Technology and Monitoring of Civil Nuclear Program in the Nuclear Supplier Group
 
Presentation by Nicholas Millot


Master's, Security and Defence Policy, Norman Paterson School of International Affairs, Carleton University


A Faint Red Line: The Attribution of and Accountability for Chemical Weapons Use in International Law
 
Presentation by Emily Boytinck
Master of Public Administration, School of International and Public Affairs, Columbia University
An Analysis of Effectiveness Improvements from the Increased Participation of Women in Disarmament Discourse

The cash awards of CAD$5,000 were presented to the winners during a special ceremony and reception that evening where the Keynote Address was given by Dr. Jeffrey Lewis, Director of the East Asia Nonproliferation Program at the James Martin Center for Nonproliferation Studies (CNS), Middlebury Institute of International Studies at Monterey.
Click here for the Opening Remarks from Dr. Jennifer Allen Simons, President of The Simons Foundation.
More information and transcripts of the presentations made by the 2018-2019 Award winners will be published by The Simons Foundation in a forthcoming online report.
We congratulate this year's successful applicants once again and wish them continued success in their scholarship on these critical issues.