The Pandemic and DND's Public Service Mandate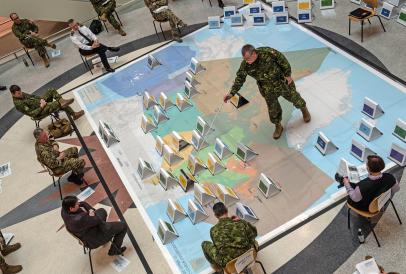 December 7, 2020
See The Simons Foundation Canada's page on Canadian Defence Policy for briefing papers by Ernie Regehr, O.C., Senior Fellow in Arctic Security and Defence at The Simons Foundation Canada.
Public awareness of Canadian Armed Forces' (CAF) aid to civilian governments and agencies has once again come to the fore in the context of the Covid-19 pandemic. Military assistance to civil authorities is routine in Canada and variously includes emergency help in law enforcement, humanitarian relief, natural disaster recovery, and search and rescue. From the earliest days of the present pandemic, critically important CAF resources have been mobilized. An emerging question is whether these core civilian support roles, for which there is increasing demand, should be elevated for priority attention in military planning, training, and procurement, or whether they should continue to be treated as spin-offs from the primary combat-readiness focus of the Armed Forces. 
Three of eight core missions listed in the Department of National Defence (DND) 2018-2023 Defence Plan are focused on assisting civilian authorities facing crises and natural disasters: law enforcement, responding to disasters, and search and rescue.  These roles fit into the explicit "Public Service" mandate set out in the National Defence Act: whereby the Federal Cabinet or the Minister may authorize the forces "to perform any duty involving public service" that is "limited to logistical, technical or administrative support," or in support of law enforcement, provided it is considered to be  in the national interest and essential (that is, if it is concluded that the matter at hand can be effectively dealt with only if CAF support is forthcoming).  In addition, the Provinces can, through their attorneys-general, requisition CAF assistance if civilian authorities are unable, or are likely to be unable, to maintain peace and public order (in such cases the CAF must respond, but it is the Chief of Defence Staff who decides the nature and extent of the assistance). 
The public service mandate has traditionally been referred to as aid to the civilian authorities or community, while the mandate to help preserve the peace is referred to as aid to the civil power. The former has become commonplace, the latter remains rare.  Recent testimony at the House of Commons Standing Committee on National Defence by Major-General Trevor Cadieu, Director of Staff of the Strategic Joint Staff, describes CAF involvement in responding to the current pandemic crisis (under the public service or aid to the civilian community mandate):  
The CAF became part of a "whole-of-government response" to the crisis early on through Operation Globe – the repatriation of Canadians from China, Japan and the United States. A key part of that effort was the quarantining of almost 1,000 of the returnees at Canadian Forces Base Trenton. 
"Operation Laser" placed 24,000 CAF personnel – from the regular force, reserve force, and Canadian Rangers, as well as civilians – essentially on standby. Close to 2,000 personnel were deployed to 54 long-term care facilities in Quebec and Ontario. 
The CAF supported public health and humanitarian aid measures in northern and remote communities. 
Logistics experts continue to assist in the warehousing and distribution of personal protective equipment and medical materiel across the country, and plans are underway for CAF logistic support in the rollout of vaccines. 
•CAF aircraft and crews were also mobilized to support the United Nations Office for the Coordination of Humanitarian Affairs to deliver medical equipment and humanitarian aid in Latin America and the Caribbean. 
Canadians are familiar with earlier instances of CAF aid to civilian authorities: responding to Manitoba floods, Toronto snowstorms, eastern ice storms, western forest fires, and Northern Ontario drinking water crises.  Some other missions that are generally understood to be regular military operations, are nevertheless still examples of aid to civilian authorities. For example, the 1991 renewal of the Canada-US NORAD agreement added counter-narcotics operations to the public service mandate of the CAF; and most of NORAD's air defence operations are directed at unauthorized civilian aircraft, either approaching or within Canadian airspace. Other examples of CAF support for civilian operations include:  
Operation DRIFTNET, CAF assistance to civilian law enforcement in response to illegal fishing.
Operation PALACI has the CAF supporting Parks Canada efforts to prevent avalanches in the Rogers Pass.
Operation SABOT supports the RCMP's mission to stop illegal growing of marijuana. 
The CAF have the primary responsible for search and rescue from the air, and for coordinating air and maritime search and rescue. 
Operation RENAISSANCE responds to disasters overseas. In 2020 Canadian CC-177 Globemaster aircraft delivered fire retardant and provided in-theatre airlift support to Australia in coordination with the Australian Defence Force.
The latter operation points to the long history of the Canadian forces' engagement in crisis and disaster mitigation internationally, through UN peace operations (peacekeeping) to support humanitarian relief, and to restore order and civil governance. Through Operation Caribbean, ships and aircraft of the CAF operate in the Caribbean basin and eastern Pacific to support a US-led counter-narcotics operation. The CAF also maintain a Disaster Assistance Response Team (DART) to deliver medical and engineering assistance on short notice. 
In other words, the CAF are directly tasked to respond to crises, including health emergencies, when called on by civilian authorities – and they have seen a sharp increase in the frequency of such requests in the past four years,  though most interventions require relatively minor deployments.  A clear and comprehensive, and current, exploration of the growing demand for CAF support for domestic civilian operations is available in a paper published by the Centre for International Governance Innovation. The authors, Christian Leuprecht and Peter Kasurak, are academics at Royal Military College,  and they document the extraordinary rise in such missions in recent years and address implications for Canadian military planning.
The future promises even more frequent and destructive weather/climate events, and COVID-19 will not be the last large-scale health emergency that Canada will face. Add threats of cyber-attacks on public infrastructure, and we have an urgent security agenda for which civilian departments and agencies have primary responsibility, but which will inevitably have them drawing on the coordination professionals, technical experts, logistic services, and labor forces that the CAF are mandated to keep at the ready. 
The Canadian Armed Forces are the only operational arm of government mandated and funded to maintain major human and material assets on stand-by, resources that are in excess of day-to-day operational requirements so that they will be readily available in emergencies – for the unexpected. These stand-by forces are equipped and trained, to a large extent, to be ready for deployment beyond Canada's borders in combat or combat-related missions. However, given the rise in domestic emergencies, the question is, should there be shifts in training and equipment acquisitions to directly bolster capabilities that are oriented towards domestic civilian-assistance operations?  Continue reading...
Ernie Regehr, O.C. is Senior Fellow in Arctic Security and Defence at The Simons Foundation Canada, and Research Fellow at the Centre for Peace Advancement, Conrad Grebel University College, University of Waterloo.