Public Dialogue: "Repairing the U.S.-NATO-Russia Relationship in a Nuclear World"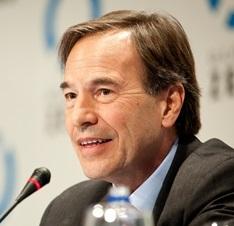 September 18, 2018
All are invited to attend this important Public Dialogue with nuclear security expert, Bruce G. Blair, Ph.D., SFU's 2018 Simons Distinguished Visiting Fellow in International Law and Human Security.   The event is free but registration is required.
 
"Repairing the U.S.-NATO-Russia Relationship
in a Nuclear World"

Join one of the world's leading authorities on nuclear security, Bruce G. Blair, Ph.D. and other leading players in this field from Russia, the USA, and NATO countries, for a thought-provoking examination of this key international security flashpoint.
Russian annexation of Crimea. Canadian troops in Latvia. Interference in the U.S. presidential election. Internal divisions within NATO. U.S.-NATO-Russia military encounters by the hundreds. Not since the Cold War have tensions between Russia and Western nations been so high. Could this lead to the use or proliferation of nuclear arms? If so, what steps are needed to de-escalate and create political space for dialogue?
DATE
Wednesday, September 26, 2018
TIME
5:20 p.m. – 7:00 p.m. public lecture and dialogue
Reception to follow
LOCATION
Asia Pacific Hall
Morris J. Wosk Centre for Dialogue (entrance off Seymour St. courtyard)
580 West Hastings St., Vancouver, BC
This event is convened by the SFU Morris J. Wosk Centre for Dialogue and The Simons Foundation.  For more information please visit the event page here.
Deadline to RSVP is Friday, September 21st.
This event is free but requires registration to attend. Space is limited, so please contact Grace Lee eunhyel@sfu.ca or cancel your registration on Eventbrite or if you are no longer able to attend.

About Bruce G. Blair, Ph.D.
Bruce G. Blair, Ph.D., is Co-Founder of Global Zero, an international movement seeking the universal elimination of nuclear weapons, and the principal author of its policy reports.  He is also Research Scholar with the Program on Science and Global Security based at Princeton University's Woodrow Wilson School of Public and International Affairs.  His principal research interests are in technical and policy steps on the path toward the verifiable elimination of nuclear weapons – global zero – with a focus on deep bilateral nuclear arms reductions, multilateral arms negotiations, and de-alerting of nuclear arsenals.
Dr. Blair holds a Ph.D. in Operations Research from Yale University (1984) and has taught security studies as a visiting professor at Yale and Princeton universities. He served as a U.S. Air Force Minuteman intercontinental ballistic missile launch control officer (1972-74), as a project director at the U.S. Congressional Office of Technology Assessment from 1982 to 1985, and from 1987 to 2000 was a senior fellow in the Foreign Policy Studies Program at the Brookings Institution, Washington D.C.  In 1999, Dr. Blair was awarded a MacArthur Fellowship Prize for his work on nuclear arms control.
Previously, Dr. Blair was the Founder and President of the World Security Institute and helped establish the Pulitzer Center on Crisis Reporting at WSI.  He is also the Founding Board Chairman of the Center on Global Interests, a nonprofit organization focusing on U.S.-Russian relations, and he served as a member of the U.S. Secretary of State's International Security Advisory Board from 2011-2017.
While in Vancouver, Dr. Blair will Chair a conference on Repairing the U.S.-NATO-Russia Relationship and Reducing the Risks of the Use of Nuclear Weapons, convened by The Simons Foundation under the auspices of the 2018 Simons Distinguished Visiting Fellow in International Law and Human Security at Simon Fraser University.