Report on the 2018-2019 Graduate Research Awards for Disarmament, Arms Control and Non-Proliferation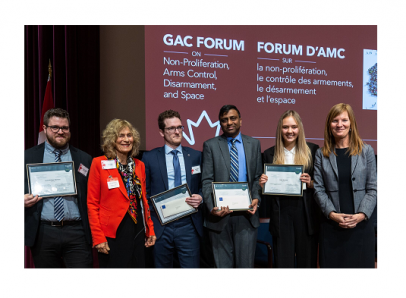 June 24, 2019
Global Affairs Canada 
Lester B. Pearson Building
Ottawa, Canada
March 28, 2019
 
The Graduate Research Awards for Disarmament, Arms Control and Non-proliferation (GRA) programme was initiated in 2003 by Dr. Jennifer Allen Simons, President of The Simons Foundation Canada, in partnership with the International Security Research and Outreach Programme (ISROP) of Global Affairs Canada.  The primary objective of the Awards is to enhance Canadian graduate level scholarship on non-proliferation, arms control and disarmament (NACD) issues.
We are pleased to congratulate the following 2018-2019 Graduate Research Award recipients who each received a cash award of CAD$5,000.00 from The Simons Foundation as well as travel support to Ottawa to participate in the Global Affairs Canada 2019 Forum on Non-Proliferation, Arms Control, Disarmament and Space/Forum D'affaires Mondiales Canada 2019 Sur La Non-Prolifération, Le Contrôle Des Armements, Le Désarmement Et L'espace.
Ramesh Balakrishnan
Ph.D., Political Science
Carleton University
Topic: The UN Secretary-General has announced a new Agenda for Disarmament and its Implementation Plan. Will the Agenda and its Implementation Plan work? How should Canada engage with it?
Louis-Philippe Morneau
Ph.D., Political Science
Concordia University
Topic: How can nuclear supplier states strike a balance between facilitating access by developing states to the peaceful uses of nuclear energy and technology, while ensuring that nuclear embarking states uphold non-proliferation, safety and security obligations, especially those under the Treaty on the Non-Proliferation of Nuclear Weapons (NPT)?
Nicholas Millot
Master's, Security and Defence Policy, Norman Paterson School of International Affairs
Carleton University
Topic: Does attribution lead to accountability under international law? We encourage consideration of recent geopolitical events involving the use of prohibited weapons (chemical weapons), as well as ongoing discussions within the UN on the implications of increasing autonomy in military systems.
Emily Boytinck
Master of Public Administration, School of International and Public Affairs
Columbia University
Topic:  What, in real terms, is the influence and impact of improving gender balance between men and women in broader disarmament discourse, debates, negotiations and other types of engagement?  How would this apply in the field of nuclear disarmament?
See the report below for more information and to view the presentations made by this year's successful applicants.
The 2019-2020 Graduate Research Awards competition will be launched in fall 2019.