Arctic Security in the 21st Century Conference, 2008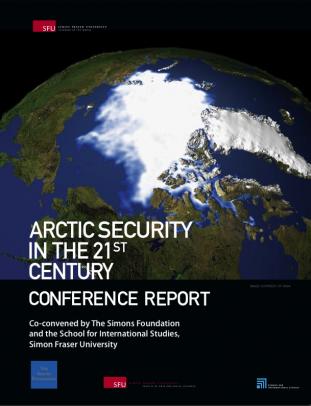 The Conference, Arctic Security in the 21st Century, was co-convened by The Simons Foundation and Simon Fraser University's School for International Studies, under the auspices of the Simons Visiting Chair in Dialogue in International Law and Human Security.  The inaugural Chairholder, Ambassador Jayantha Dhanapala, former United Nations Under-Secretary General for Disarmament Affairs, chaired the conference which was held in Vancouver, Canada on April 11-12, 2008. 

Of concern was the extensive and multi-faceted changes in the Arctic and the region's international political significance and security questions (in both the narrow sense and that of wider human security) and with regard to the human rights of its indigenous people.  The shrinking ice cap and the reduction in the area of sea ice, because of climate change will allow navigation through Arctic waters and easier access to seabed resources.  This is leading to the mobilization of competing claims to sovereignty, and in absence of a clear and comprehensive legal regime, the countries of the region, like Canada, are seeking to increase their military presence there.

Also of concern was the recent stepping up of tensions between the United States, Russia and other Arctic countries.   Environmental change is also having a profound effect on the livelihoods of indigenous peoples, both directly and through its implications for the militarization of the region.

The conference provided a forum for senior officials from the circumpolar countries to discuss the new problems of Arctic security with each other, with representatives of the indigenous peoples, with scientists working on the Arctic environment and with legal security experts from the academic world.  The intentions of the conference was to strengthen the search for co-operative security solutions, in the interests of environmental protection, demilitarization (particularly with regard to nuclear weapons and the establishment of a nuclear-weapon-free zone) and the livelihoods and human rights of Arctic peoples.  The purpose of the dialogue and its outcome is to inform policy-making and to promote the establishment of an appropriate, clear and comprehensive legal regime for the regulation of human activity and for international relations in the Arctic.