The 2016 Arctic Yearbook - On the state of Arctic Politics, Governance, and Security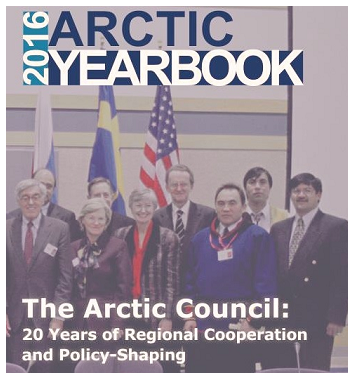 December 21, 2016
See The Simons Foundation's Disarming Arctic Security page for briefing papers on military policies and practices in the Arctic region by Ernie Regehr, Senior Fellow in Defence Policy and Arctic Security at The Simons Foundation.

The 2016 Arctic Yearbook
The fifth annual Arctic Yearbook, with a primary focus on the Arctic Council, is now available. This 2016 edition includes a broad range of scholarly articles offering critical analysis of the Council's 20-year record, and the editors clearly like what they see. In their Introduction, they acknowledge its imperfections, but also declare that "the Arctic Council is in many ways a marvel," and is "perhaps the first true post-modern regional organization." A section on Arctic Geopolitics and Security moves beyond the Arctic Council focus, and its four papers are briefly highlighted below.
The editors commend the Arctic Council as a model for east-west cooperation, for building regional stability, and for engaging non-state communities. In advancing those approaches the Council "has not so much blazed a trail," say the editors, "as invented and occupied a unique space in international relations: one that has privileged cooperation and consensus to the point that it has withstood broader geopolitical tensions between Russia and the West; has provided meaningful inclusion of indigenous peoples and other non-state actors; and prioritized environmental protection using scientific and traditional knowledges as its evidence base."
Through scholarly articles, briefing notes, and commentaries, the Yearbook explores the Arctic Council as an institution, its role in advancing and supporting Arctic science, and local and indigenous issues in Arctic governance.
Arctic security is addressed in a final section on "Arctic Geopolitics and Security."  Continue reading...
Ernie Regehr, O.C. is Senior Fellow in Defence Policy and Arctic Security at The Simons Foundation, and Research Fellow at the Centre for Peace Advancement, Conrad Grebel University College, University of Waterloo.