Operation NANOOK 2016 and DND aid to civil authorities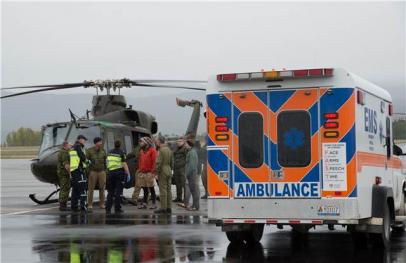 December 13, 2016
See The Simons Foundation's Disarming Arctic Security page for briefing papers on military policies and practices in the Arctic region by Ernie Regehr, Senior Fellow in Defence Policy and Arctic Security at The Simons Foundation.
The Yukon's late August earthquake, its epicentre near Haines Junction, never made the news, but the emergency response effort was impressive. Municipal and territorial first responders attended the scene, and they were soon joined by volunteers and representatives from affected First Nations communities and additional civilian emergency response teams from as far away as Vancouver. A contingent from the 1st Canadian Ranger Patrol Group arrived, along with several hundred Canadian Armed Forces personnel with equipment that included CH146 Griffon and CH147 Chinook helicopters and CC130 transport aircraft. The Minister of National Defence visited the operation, as did the Commissioner of the Yukon (parallel to a provincial lieutenant governor). At least one other Member of Parliament and one Senator attended, and there were observers from the armed forces of the United States, United Kingdom, and France, as well as a small civilian observer group (including Disarming Arctic Security).
The earthquake was in fact an imagined event and the very real emergency response effort was a practice run, organized by the Canadian Armed Forces (CAF) as Operation NANOOK. The Yukon scenario and response – centred around a serious natural disaster requiring a whole-of-government response – accurately reflected a key operational reality for the Canadian military at home – namely, its prominent function of aiding those civilian authorities and operations that have the primary responsibility for ensuring public safety in Canada.
In Operation NANOOK, an annual northern exercise to practice and train for Canadian military operations in the Arctic, the defence of Canada is less about vanquishing enemies bent on undermining sovereignty and violating our territorial integrity, and more about responding to the kinds of natural calamities and human misadventures that can, in the Arctic's challenging environment, quickly overwhelm the capacity of civilian agencies tasked with restoring and maintaining public safety. Assisting civilian authorities and institutions in a broad range of responsibilities in law enforcement, environmental surveillance, and disaster relief is what the Canadian Armed Forces (CAF) do in the Arctic. Indeed, the dominant day-to-day activity of the CAF in the rest of Canada is much the same. Air space surveillance and control and maritime surveillance of approaches to Canadian territory are undertaken by NORAD, but these are most often not national defence operations in the usual sense of that term, they are actually examples of the Canadian Armed Forces aiding civilian law enforcement agencies, like the RCMP, and the Coast Guard in its mission of promoting the safety, security, and accessibility of Canada's waterways.
So, each year the CAF mount an exercise, sometimes in cooperation with other militaries, notably the US, that focuses on working with Canadian non-military agencies and departments of government with responsibilities related to security and public safety in the Arctic. Hence, this year's training response to a simulated crisis in the Yukon was premised on an earthquake, while another part of the exercise responded to a security crisis in the Rankin Inlet region of Nunavut. In the coming years, rather than Operation NANOOK being a single annual exercise, it will become a framework under which a series of exercises will be conducted throughout each year.
The point of such whole-of-government exercises is not only to practice interoperability and cooperation among diverse organizations, departments, and levels of government, and not only to develop technical operational skills, like rescuing adventurers from isolated mountain ridges or workers and residents from collapsed buildings, it is also to build durable and trusted relations between local communities and agencies responsible for various elements of public safety. Indeed, the relevance and urgency of practicing emergency operations in response to natural and human made catastrophes was highlighted, and regularly commented upon, by the voyage this past summer of the cruise ship Crystal Serenity through the Northwest passage with some 1,000 passengers on board – a harbinger of increased sea traffic and therefore increased risk of disaster (quite apart from the environmental and social impacts of cruises and other ship transport through Canada's Arctic waters). As it also happened this year, Griffon helicopters and their crews, because they were in the region for NANOOK and were thus available, participated in an actual operation to find and rescue stranded Alaskan paddlers.
The question of when Canadian Forces become engaged domestically in direct assistance to civilian authorities is answered, not by the Forces themselves, but always by civilian authorities and agencies. A whole-of-government approach to emergencies begins with civilian first responders and draws in various government departments and agencies as warranted, and, in special circumstances, the CAF can be called on to assist as mandated by the National Defence Act and the Emergencies Act.  Continue reading...
Ernie Regehr, O.C. is Senior Fellow in Defence Policy and Arctic Security at The Simons Foundation, and Research Fellow at the Centre for Peace Advancement, Conrad Grebel University College, University of Waterloo.