When Bears Still Fly: Responding to Russian Bomber Patrols in the Arctic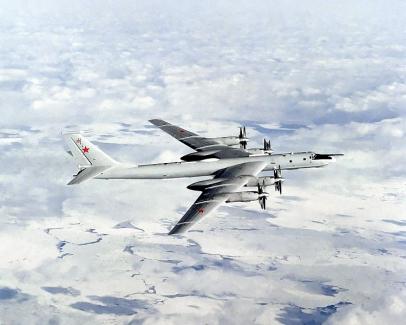 November 10, 2016
See The Simons Foundation's Disarming Arctic Security page for briefing papers on military policies and practices in the Arctic region by Ernie Regehr, Senior Fellow in Defence Policy and Arctic Security at The Simons Foundation.
Russia's Bear Bombers continue to conduct patrols and training flights in international airspace near North America's Arctic coastlines. Canadian and American military interceptor aircraft as part of their own training regimen, continue to track and rendezvous with the Russian Bears. Some observers try to muster alarm in the face of Vladimir Putin's strategic patrols, others are more sanguine, but it is for Governments to devise the appropriate response. NORAD is maddeningly coy about the frequency of such encounters, but as more information emerges, most recently in the 2016 Arctic Yearbook, it becomes increasingly clear that the prudent posture is to be attentive but not alarmed.
The 2010 posture of NORAD (the Canada/US North American Aerospace Defence Agreement), that "both Russia and NORAD routinely exercise their capability to operate in the North," and that "the exercises are important to both NORAD and Russia and are not cause for alarm," should still hold true, but for some, Crimea changed everything.
Veteran journalist and analyst Matthew Fisher, for example, excoriated Foreign Affairs Minister Stéphane Dion for his plans to pivot Canada toward better relations with Russia in the North, arguing that Arctic relations between the region's two most prominent states should not be separated from what Fisher called Russia's "poisonous" relationship with the West over Ukraine, the Baltics, and the Middle East. And while Foreign Minister Dion sensibly says "the north is no place for military confrontation or buildup," others, like a former head of the US Northern Command, still see peril and a risky military "capability gap" in the Arctic.
Of course, any credible assessment of the extent and nature of a northern military capability gap needs to be based on a clear understanding of the nature and magnitude of the threat. And when it comes to apparent current and foreseeable levels of Russian bomber activity in the general vicinity of the northern coasts of North American, judged against current air defence capabilities, it's hard to make the case for a capability gap.  Continue reading...
Ernie Regehr, O.C. is Senior Fellow in Defence Policy and Arctic Security at The Simons Foundation, and Research Fellow at the Centre for Peace Advancement, Conrad Grebel University College, University of Waterloo.